Save
£90!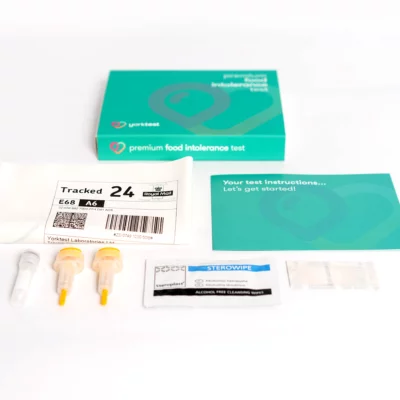 Purchased 84 times in the last 7 days!
Couples Food Intolerance Bundle
PayPal Credit is like a credit card, without the plastic. It's a credit limit that's attached to your PayPal account which you can use for your online purchases. 0% interest for 4 months is available on single transactions of £99 or more. Find out more
Add items to your basket
Select PayPal as your payment method at checkout
Log into your PayPal account and chose PayPal Credit as your payment method or apply for PayPal Credit
Representive Example
Representive 21.9% APR (variable); Purchase rate 21.9% p.a (variable); Assumed credit limit £1200.
Credit subject to status. Terms and conditions apply. YorkTest acts as a broker and offers finance from a restricted range of finance providers.
PayPal Credit is a trading name of PayPal (Europe) S.á.r.l et Cie, S.C.A, 22-24 Boulevard Royal L-2449, Luxembourg.
MARCH SALE | 30% OFF
+ FREE Delivery on all orders
Become a healthier and happier couple
Take our most comprehensive couples food and drink intolerance test to find out whether you and your partner have a food sensitivity*. In the comfort of your own home, each take a simple finger-prick blood sample and return them in the post. We'll review your IgG antibody responses to 200 food and drinks. Receive your results within 7 days! No social interaction required.
Measures all four subtypes of food-specific IgG
Receive expert, accurate analysis from our fully-accredited laboratory technicians
Simple finger-prick blood test – the most accurate and stable way to collect a sample
Reactivity values presented in an easy-to-read traffic light format with supporting guidebook
Each person receives a 30-minute consultation with a nutritional therapist and track your progress alongside a food and drinks diary
Customers must be aged 18 years or over to take this test. This test is not available to customers who are pregnant or breastfeeding
About the test
Take the stress away from your every day
If you or your partner feel uncomfortable days after eating certain foods, it could mean that you have a food intolerance*. Symptoms like IBS, bloating, diarrhoea, vomiting, eczema, or fatigue/tiredness can be associated with food sensitivities and can have a drastic effect on your health, let alone your relationship.
A food intolerance* test and nutritional support enables you both to regain control as you'll each find out more about what are your trigger foods, taking the worry away from not knowing what you should and shouldn't eat, for good.
Measure all four subtypes of IgG antibodies
Unlike other tests on the market, we measure all four subtypes of IgG antibodies (IgG 1-4). This is essential in order to provide a full picture of your family's reactions ensuring that all of the different food-specific IgG reactions are detected.
Improve you and your partner's wellbeing
The gut is home to 70% of the immune system, so by reducing the number of intolerant foods in you and your partner's diet, you can help support your immune system as the gut won't be fighting off foods that may be causing it to 'overwork'.

How it Works
4 Simple Steps to a Healthier You
1
Receive your test
Order online and we'll post your kit directly to your home.
2
Take the easy finger-prick blood test
Collect 2-3 drops of blood and post your sample to our laboratory.
3
Receive your results within 7 days
Review your easy-to-read traffic light results: high, borderline, and normal reactivity.
4
Ongoing support
Ongoing support and guidance from our Customer Care Team.
What's In The Test?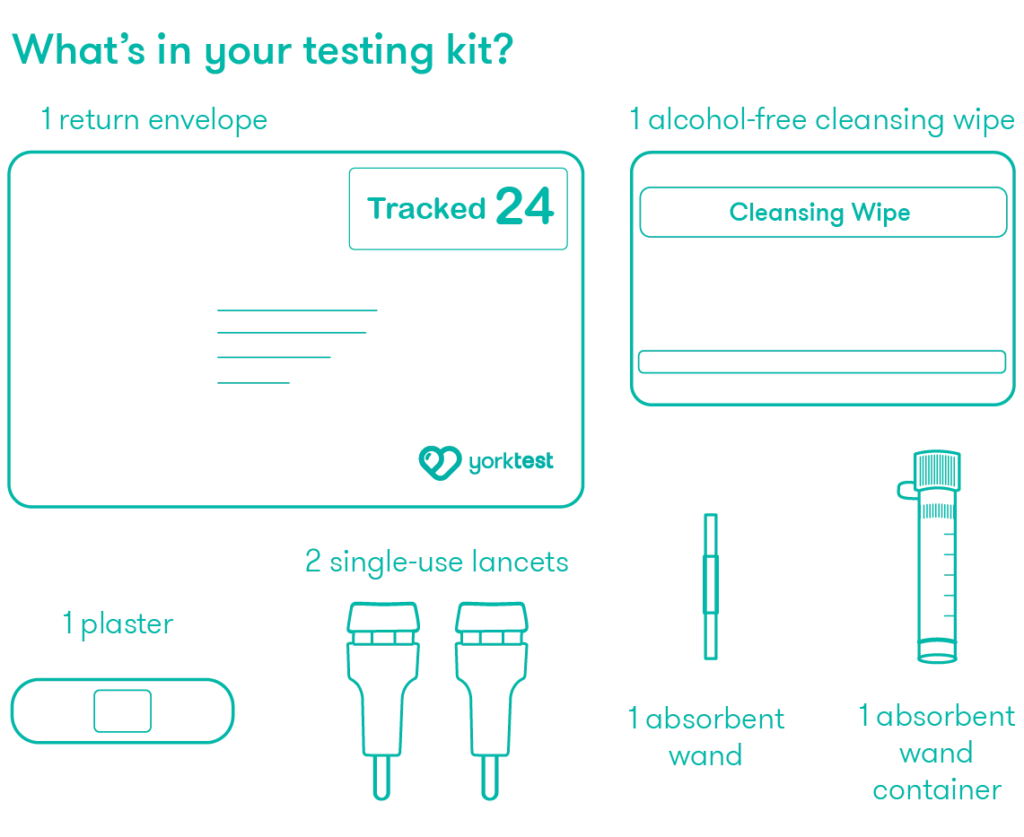 HOME TO LABORATORY KIT
What's in your food intolerance testing kit
Our food intolerance testing kit comes equipped with the following items for both you and your partner to use. Simply take a sample each and return them in the post using our pre-paid envelope.
A prepaid return envelope (UK & Ireland only)

Two single-use lancets

One absorbent wand

One absorbent wand container

One adhesive plaster

A cleansing wipe
What We Test For
Key Ingredients
Almond
Beef
Coffee
Cow's Milk
Egg White
Egg Yolk
Gluten (Gliadin)
Oat
Peanut
Pork
Tea
Wheat
Yeast
Drinks
Acai Berry
Chamomile
Coffee
Cow's Milk
Dandelion Root/Burdock Root
Elderberry
Elderflower Mix
Ginseng
Goat's Milk
Cabernet Sauvignon
Chardonnay
Chenin Blanc
Concord
Malbec
Merlot
Pinot Noir
Riesling
Sauvignon Blanc
Syrah/Shiraz
White Zinfandel/Red Zinfandel Mix
Green Tea
Guarana
Hibiscus
Rooibos
Rosehip
Sheep's Milk
Tea
Fish/Shellfish
Abalone/Cuttlefish
Anchovy
Crustacean mix
Cuttlefish
Eel
Mollusc Mix
Oily Fish Mix
Plaice/Sole
Salmon/Trout
Sardines
Tuna
Vendace
White Fish Mix
Fruit
Apple
Apricot
Avocado
Banana
Bilberry
Blackberry
Blackcurrant
Blueberry
Boysenberry
Cherry
Cloudberry
Coconut
Cranberry
Cucumber
Gogi Berry
Grapefruit
Kiwi
Lemon
Lime
Lingonberry
Lychee
Mango
Melon Mix
Mulberry
Olive
Orange
Papaya
Peach
Pear
Pineapple
Plantain
Pomegranate
Prune
Pumpkin
Raspberry
Strawberry
Tamarind
Tomato
Grains
Barley/Malt
Buckwheat
Corn (Maize)
Dinkel Flour
Gliadin (Gluten)
Hops
Millet
Oat
Quinoa
Rice
Rye
Wheat
Wheatgrass
Herbs and spices
Agar Agar
Anise Seed
Cardamom/Bay Leaf
Chilli Pepper
Cinnamon/Clove
Coriander/Cumin/Dill
Curry Leaves/Curry Powder
Garlic
Ginger
Jasmine
Juniper berry
Lemongrass
Mint Mix
Mustard Seed
Nutmeg/Peppercorn
Peppers (Capsicum)/Paprika
Parsley
Saffron
Turmeric
Meat
Beef
Chicken
Duck
Goat
Lamb
Pheasant
Pork
Turkey
Nuts and plants
Agave
Arugula
Almond
Aloe Vera
Bamboo
Brazil Nut
Carob
Cashew Nut
Chia Seed
Chickpea
Cocoa Bean
Cola Nut
Hazelnut
Hemp
Nettle Leaves
Okra
Peanut
Rapeseed
Sesame Seed
Seaweed
Spirulina
Sunflower Seed
Tamarind
Walnut
Vegetables
Asparagus
Bean sprouts
Beetroot
Bok choi
Carrot
Celery
Haricot Bean
Kale
Kidney Bean
Lentils
Lettuce
Mushroom
Mustard Mix
Onion
Parsnip
Pea
Peppers (Capsicum)
Potato
Rhubarb
Seaweed
Soybean
Spinach
String Bean
Swede
Sweet Potato
Turnip
Water Chestnut
Individual Content of Mixes
Crustacean Mix
– Crab
– Lobster
– Prawn
– Shrimp
Melon Mix
– Watermelon
– Honeydew
– Cantaloupe
Mint Mix
– Mint
– Sage
– Basil
– Thyme
Mollusc Mix
– Mussel
– Oyster
– Scallop
Mustard Mix
– Broccoli
– Brussel Sprouts
– Cabbage
– Cauliflower
Oily Fish Mix
– Herring
– Mackerel
White Fish Mix
– Cod
– Haddock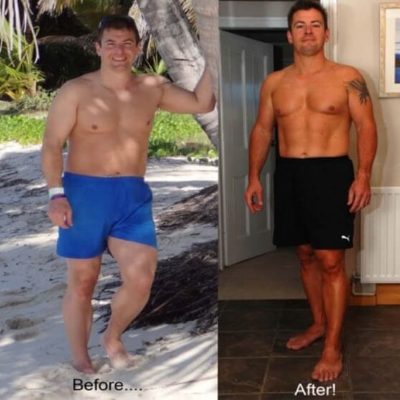 Matt Perry
"A simple test and re-education on your eating habits can turn your life around"
Symptoms:
IBS / Digestive Problems
Tiredness / Fatigue
Weight Management
Matt Staniland
Symptoms:
IBS / Digestive Problems
Tiredness / Fatigue
Debs Hill
"I'm excited for what the future holds - I know there's a long path ahead when I start reintroducing foods but I've shown myself anything is possible."
Symptoms:
IBS / Digestive Problems
Weight Management
Trudi Stamp
"The test has helped me to feel happy, energetic and more active."
Symptoms:
Arthritis / Joint Pain
Brain Fog/Inability to Concentrate
IBS / Digestive Problems
Migraines / Headaches
Nausea
Tiredness / Fatigue
Weight Management
Eleanor Newton
"I feel very thankful for having the opportunity to be able to have found a solution to my problem, without having to take medication."
Symptoms:
Brain Fog/Inability to Concentrate
IBS / Digestive Problems
Weight Management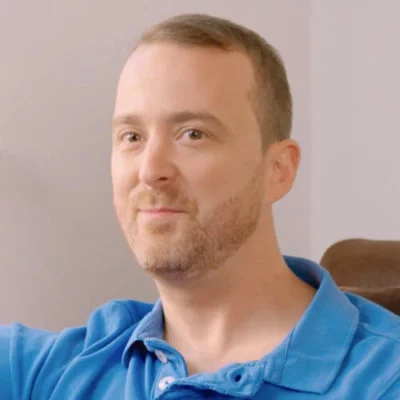 David Brown
"I am a different person and the brain fog, anxiety and depression have now disappeared. I feel reborn and finally have my life back"
Symptoms:
Mental Health
Tiredness / Fatigue
Our heritage.
We have 40 years of expertise in providing reliable and scientifically validated home-to-laboratory testing services.
Quality, accuracy & expertise.
YorkTest's products have a 98% reproducibility rate, meaning that two separate results of the same person's sample will correlate with each other 98% of the time. All results are confidential and provided to you online via our wellness hub within 7 days.
Aftercare service & support.
We are the only food intolerance company to provide nutritional aftercare from a team of qualified Nutritional Therapists with the purchase of our food intolerance test.
In-house & UK based.
Based in York, UK, we're fully audited and operate in our certified, in-house laboratory. All our tests are compliant with the European Medical Device Directive 93/42/EEC (Article 12) and the European In Vitro Diagnostic Directive 98/79/EC.