Friendly experts who care about yourfood intolerance
YorkTest Laboratories have over 35 years of excellence in laboratory diagnostic testing, and are Europe's leading provider of food and drink specific IgG antibody testing programmes. We are passionate about providing you with personalised information and support that can be used to help optimise your health and wellbeing.
Dr Gill Hart
Scientific Director
As a Biochemist with 30 years of experience in the development and validation of diagnostic tests and testing services. Gill joined the YorkTest team in 2005 and has applied her scientific and regulatory knowledge to all YorkTest services. Gill is an expert in food intolerance and steers the company's research and development.
Andrew Meredith
Head of Customer Care
I began my career with YorkTest back in 2007 and during that time it has been a fantastic company to work for, I really enjoy working at YorkTest. I started life as a Customer Care Consultant. During my time at YorkTest, I have been promoted several times, from Senior Consultant, Team Leader through to my current role as Head of Customer Care. The training and support the company afforded me has been the key to my success. It's fantastic when we talk to our customers, building relationships along the way, supporting the customer and making a difference to their health and general wellbeing. This for me is the most rewarding part of my job.
Neil Guilder
Financial Director
Neil has over 20 years of experience working at the Finance Director level. He is an FCMA and Chartered Director.
He has particular experience of leading, from a finance point of view, the rapid growth of SME's organically and via acquisition.
35 years of scientific expertise
Laboratory
Our fully audited and accredited laboratory places us at the forefront of scientific innovation.
158 foods tested
Our comprehensive testing service provides customers with actionable information to help optimise their diet and wellbeing.
Experience
With over 35 years of experience in scientific innovation, we have a strong heritage of invaluable knowledge, research and expertise.
Accuracy
We will check your test at key stages throughout the laboratory process before sending you the final result.
We will comprehensively maintain and calibrate the equipment used to test your sample to ensure accuracy.
We will scrutinise the results of your test and only release the results when we are completely satisfied.
We will use the latest information technology within the laboratory processes to ensure the very highest levels of accuracy.
Validity
We will ensure your test is carried out by trained, qualified scientists at the YorkTest laboratory.
We will ensure your sample is rigorously tested by our own in house laboratory scientists.
You have assurance that the blood collection kits and methods used are CE marked.
Confidentiality
We will safeguard the confidentiality of your test throughout the process by using a unique number, enabling it to be tracked at every stage while ensuring that confidentiality is maintained.
We will never give details of your test to any person, institution, organisation or body without your consent or unless ordered to do so by a court order.
Your information will be kept safe at all times in compliance with the Data Protection Act 1994.
Compliance
Our quality assurance procedures are audited by independent authorities to ensure compliance with international regulations (ISO 9001:2008, ISO 13485:2003).
YorkTest Laboratories produce unique sterile blood collection kits that comply with the European Medical Device Directive 93/42/EEC and the European In Vitro Diagnostic Directive 98/79/EC.
Support
Along with your results, we will issue you with comprehensive support information to ensure you maintain optimum health.
Food and drink specific IgG reactions tests customers will also receive the personal one-to-one advice from BANT* registered Nutritional Therapists to support your dietary changes.
You will have access to a free initial consultation to help identify the correct test for you. Call our consultants on 0800 074 6185 or for Ireland 01 20 22 701.
*British Association for Applied Nutrition & Nutritional Therapy (BANT)
Delivery Guarantee
YorkTest offers a 30-day money back guarantee. You can return your test in its original and unused condition within 30 days of purchase for a full refund if you decide not to go ahead. This does not affect your statutory rights.
When you order your test we'll despatch it within 2-5 business days.
If you are ordering from outside the UK and Ireland please allow 2-3 weeks.
Fast 50 Growth Company
Certification ISO 9001:2008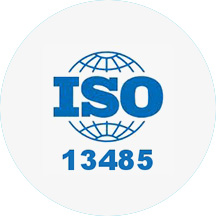 Certification ISO 13485:2003
European In Vitro Diagnostic Directive 98/79/EC