Friendly experts who care about yourfood intolerance
YorkTest Laboratories have over 35 years of excellence in laboratory diagnostic testing, and are a leading provider of food and drink specific IgG antibody testing programmes. We are passionate about providing you with personalised information and support that can be used to help optimise your health and wellbeing.
Our Lorisian brand also works with practitioners in a wide range of fields, as well as serving sports teams and corporate health professionals. In each case we can provide a solution for identifying their client's individual food triggers and helping them to optimise their diets.
Dr Gill Hart
Scientific Director
Gill joined YorkTest in 2005 and is one of our longest serving employees. She is a leading UK Biochemist, an expert on food intolerance and a credible and respected authority on a range of related issues, including diagnostic testing. Gill is passionate about anything scientific and health related and loves walking (especially by the sea). Gill has a creative side too, making curtains, cushions and blinds in her spare time.
Favourite food:
Beetroot
A fun fact about Gill:
Gill has recently taken up salsa dancing!
Alex Ashley-Roberts
Marketing Director
Joining the business in February 2018, Alex has 10 years of marketing expertise behind him. He believes marketing is an ever-changing discipline and is immersed by the psychology of capturing the audience's attention. He is also passionate about health and wellbeing and is looking forward to making a difference to people's lives with YorkTest. A proud father to two children, Alex is a keen distance runner and maintains a vegan diet to optimise his performance. He is planning to run the London Marathon and annually partakes in the Snowdonia Marathon, where he grew up.
Favourite food:
Dried mango or a vegetable hotpot
A fun fact about Alex:
Alex is planning to run for 24 hours during his own charity event in aid of Action for Children
35 years of scientific expertise
Laboratory
Our fully audited and certified laboratory places us at the forefront of scientific innovation.
208 foods tested
Our comprehensive testing service provides customers with actionable information to help optimise their diet and wellbeing.
Experience
With over 35 years of experience in scientific innovation, we have a strong heritage of invaluable knowledge, research and expertise.
Fast 50 Growth Company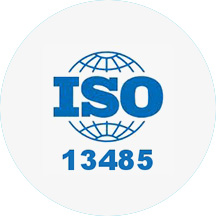 Certification ISO 13485:2016
European In Vitro Diagnostic Directive 98/79/EC