David Brown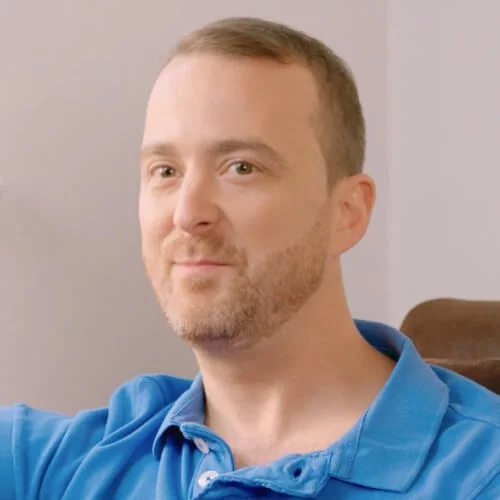 Symptoms: fatigue, anxiety
Food Reactions: egg
"My brain fog and anxiety have disappeared – I finally have my life back"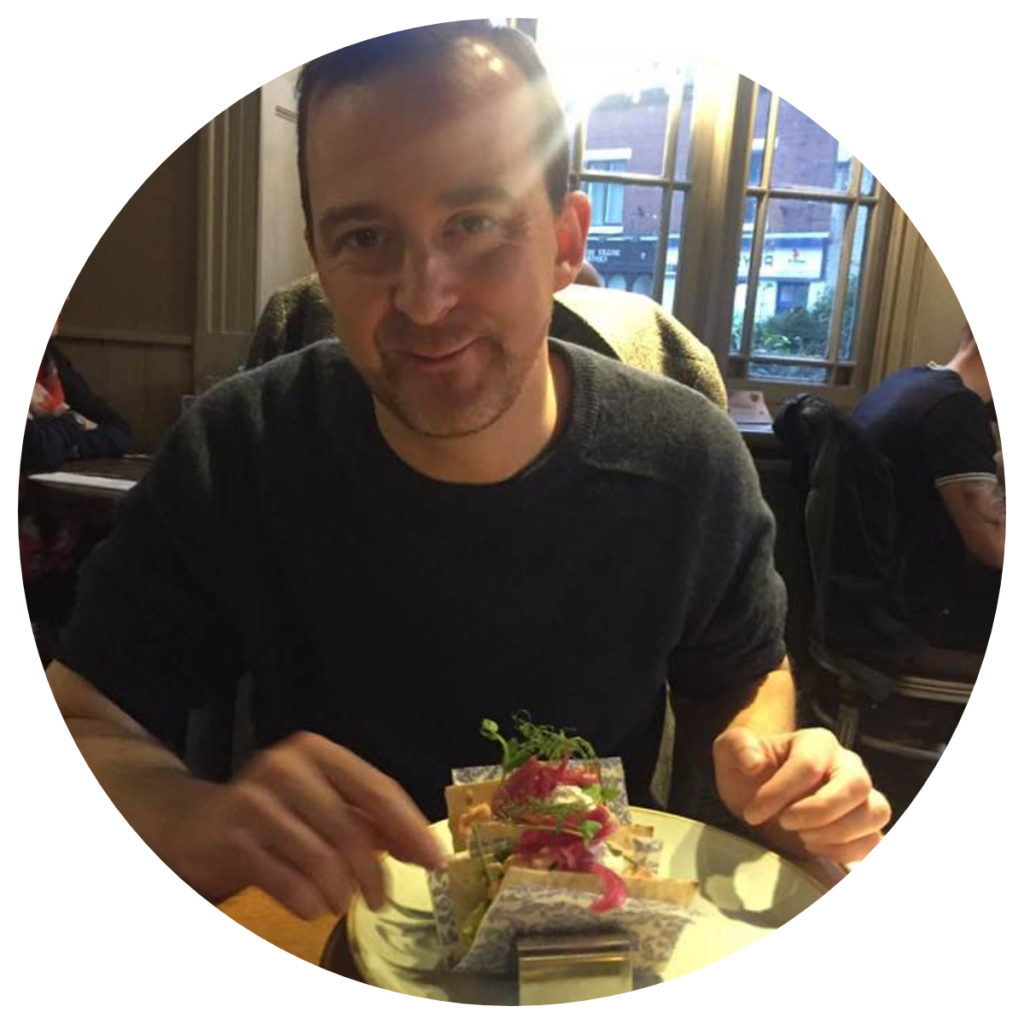 For years, Company Director David Brown struggled with lethargy, forgetfulness, anxiety and depression.
After discovering yorktest, he found out that he had an intolerance to egg white and egg yolk.
Since eliminating them from his diet, his symptoms have disappeared and he says he feels 'reborn'.
The drop in anxiety levels gave him the confidence to start dating and he is now "very much in love" with girlfriend, Michelle.
David volunteered to be one of the yorktest customers who shared their stories in our 2018 television advert.
So dramatic was the change in David Brown, after following a yorkTest Food Sensitivity Test, he jumped at the chance to appear in the company's 2018 television advert.
"Not knowing why you are unwell is at least half the battle and causes more anxiety. I was therefore very keen to tell my story in the hope that people may recognize those symptoms in themselves and know where to turn to get help."
"Filming the advert was a lot of fun and it was very interesting to learn how these things are done and see behind the scenes".
David began his yorktest journey in October 2016 and within just three weeks of eliminating his trigger food (eggs), his symptoms had gone. A year and a half later, he is still in great health and feeling very optimistic about the future.
"Now I'm more focused and as the fog has lifted I'm able to see a clear path for the future. Not just where I want to take things but how to do it."
The significant drop in his anxiety levels gave David the confidence and desire to get back on the dating scene and within two months of making his dietary changes, he met and started dating Michelle.
"Fourteen months on we are living together and planning for the future, we're very much in love and couldn't be happier. Prior to my diagnosis and change in diet I doubt I would have been able to form such a relationship. I also doubt that Michelle would have been willing to date me."
In some cases it is possible for trigger foods to be reintroduced into the diet but David has had no such luck. Fortunately, Michelle is there to support him with his egg-free diet.
"I have tried several times to reintroduce eggs (sometimes intentionally and sometimes by being careless) but the symptoms quickly return so I am continuing to give eggs a wide berth. Michelle makes a mean egg free lasagna and while I miss poached eggs on toast, avoiding them isn't causing me any great hardship."
18 months before
Happy, energized and full of enthusiasm for the future, it's hard to believe that things were looking very different for David just 18 months before. Working long hours was taking its toll on his health; he felt constantly tired and lethargic and complained of a 'brain fog' that made it difficult to focus and think clearly, which was jeopardizing his expansion plans.
David recalls, "I noticed my fatigue, irritability, confusion, lack of focus and motivation becoming a problem around the same time I employed my first driver in March 2014. Looking back, this must have been a coincidence, but I went from driving ten to 12 hours a day without any problems, to becoming very tired and unmotivated since becoming office based and spending my days staring at a computer screen. This also had an impact on relationships as I was always angry and irritable. On top of this, I often felt anxious and depressed."
David tried to eat healthily and exercise regularly to banish his lethargy and tiredness – a struggle after his working day. During workouts at the gym, lifting weights brought on dizziness, even if it wasn't a particularly strenuous workout.
"I visited the doctors on several occasions and my blood was tested for vitamin and mineral deficiencies, as well as diabetes, and I also had my eyes tested to see if that was the cause of my fatigue as I was staring at a computer screen all day. A minor issue was found and since then I've worn reading glasses, but unfortunately this made no difference."
Dave cannot pinpoint when his symptoms began – he recalls suffering bouts of mild depression since the age of 18, but simply ignored it, even telling himself to 'get over it'. Then in 2004, he suffered a serious head injury, the result of an unprovoked assault while walking home one night. This attack resulted in short-term memory and hearing problems.
"Luckily, I recovered and got on with my life. There was an increase in my anxiety after this event, but I figured it was to be expected after what I'd experienced, so I dismissed it. I was treating the anxiety and depression as one issue and separate from any other problems, such as the fatigue and brain fog."
He found the doctors sympathetic and keen to help, but now concludes that he wasn't explaining his symptoms properly. "Even when I searched the internet for answers, I was always using the words 'fatigued' and 'lethargic'."
Looking for support
Having tried everything he could think of to help the mental health issues, including hypnotherapy and cognitive behavioral therapy, he heard about yorkTest food sensitivity testing through his mother who had a positive experience.
The process, which involves sending a finger prick blood sample to the company's laboratory to test reactions to up to 208 foods, revealed that he was intolerant to egg white and egg yolk, with a borderline reaction to millet.
After receiving his results, he also booked a consultation with one of our qualified nutritional therapists, who advised him on how to eliminate trigger foods from his diet, seek healthy alternatives and stick to his new regime. However, David admits it was difficult.
Dietary changes
"Beginning an egg-free diet wasn't easy as I had no idea just how many foods contain it! My previous attempt to eat well had consisted of eating lots of eggs, so unknown to me, I was sabotaging my efforts. When I started to explain my symptoms to the nutritionist, she used the phrase 'brain fog' which immediately resonated with me. I thought, yes, that's exactly what it is, like my brain is immersed in fog." He looked it up later and it was as if the symptoms were written for him. "It was a huge relief to have a diagnosis and to realize I wasn't alone and there were ways to tackle it."
Despite his new-found awareness of his issues, David admits that at first he didn't commit wholeheartedly to an elimination diet, although he stopped eating eggs and mayonnaise. But as he carried out more research, became more knowledgeable and discovered handy mobile apps to help him avoid his trigger ingredients, he resolved to have the willpower to stick to it.
"Funnily enough, I haven't found it as hard as I thought to make the changes. Shopping and preparing meals isn't too tough, but I am more concerned about convenience than taste and variety! I am sure that with a little more imagination, my diet could be more varied. I tend to have porridge for breakfast, sandwiches with egg-free salad cream for lunch and tea is chicken breast with steamed vegetables or steak and chips, or sometimes a carefully selected microwave meal. I keep an eye out for millet when reading ingredients, but haven't found it in the things I buy – I avoid seeded bread just in case though."
It didn't take long before David noticed the difference in his symptoms. "After about three weeks of being 100 per cent egg free, not only was the brain fog lifting, but my anxiety and depression also seemed to fade. This was a revelation for me, as I never in a million years expected such a complete and total change in my health. I honestly felt reborn, like my brain had been taken out, thoroughly cleaned and serviced, then popped back in!
Looking to the future
"I am sharper, more motivated, focused and can think so clearly. I no longer get flustered or confused when things are getting stressful and most unexpected of all, my anxiety has gone. I can watch the news without becoming convinced that it's the end of the world as we know it, I can be in a room full of people and not feel uncomfortable and finally enjoy deep conversations and debates with friends or family without becoming tongue-tied and flustered. Most importantly of all, I'm happy. All this from not eating eggs – I never would have believed it unless I'd experienced it. It is hard to put into words – I am a different person and the brain fog, anxiety and depression have now disappeared. I feel reborn and finally have my life back."
yorktest advise that you consult with your doctor first if you are experiencing the types of symptoms mentioned in this testimonial.
Charlotte Earle
"I'm so grateful I took the test, I was concerned about avoiding so many key foods but I feel hugely better now, it's all worth it."
Symptoms:
IBS / Digestive Problems
Nausea
Toby Forrest-Charde
" Toby has been much more comfortable and happy now that he can play with friends and not worry about eating triggering issues. 100% worth the money, would recommend to all my friends and family"
Kate Ferguson
"I had tried everything from supplements to acupuncture, to diet plans to hypnotherapy. This test has helped me to gain back control of my body."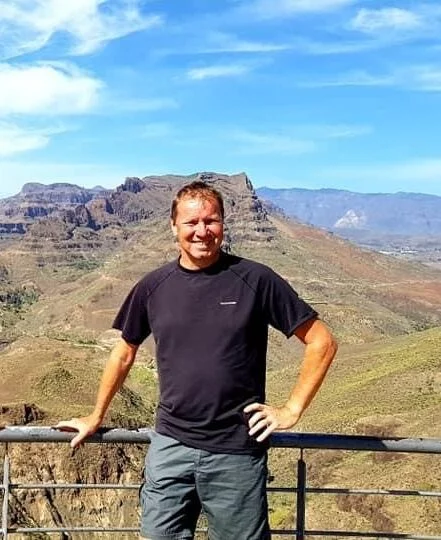 Steve Bartlett
"Relieved that I not have the ammunition to tackle the issues which could lead to serious health issues further on."
Symptoms:
IBS / Digestive Problems
Tiredness / Fatigue
Weight Management