Jo Wimble
Symptoms: sinusitis, weight gain
Food Reactions: cow's milk, grape varieties, yeast, wheat, cashew nuts
"Since identifying the foods causing flare-ups, my chronic sinusitis has cleared up and I've lost half a stone"
Award-winning entrepreneur suffered from chronic sinusitis and weight management issues
She was regularly prescribed antibiotics in a bid to control the painful symptoms
After starting to feel worn down from her symptoms, her doctor referred her for an MRI scan, eye tests and ENT appointments, who recommended a procedure to take some bone away from the bridge of her nose
Her sister-in-law advised a food sensitivity† test before she agreed to the surgery
Jo's food sensitivity† test revealed Jo had reactions to cow's milk, certain wine grapes, yeast, wheat and cashew nuts
During her elimination diet, her symptoms began to fade and she can finally enjoy life "free from pain"
To say that Jo Wimble packs a lot into her day is an understatement. The Kent-based mum of two and award-winning entrepreneur is joint founder of a mobile telecommunications company.
A motivational speaker, writer, blogger and mum of two, she has somehow nailed the art of organization so she can juggle her extensive work commitments with the challenges of parenthood, which she writes about in her popular parenting blog, Guilty Mother.
Jo, 38, who lives in Tunbridge Wells with her partner Lance, 38, and children Erin, seven, and four-year-old Seth, is full of energy and enthusiasm, but it's hard to believe that her chronic sinusitis forced her to resort to antibiotics, which she ended up taking for two years in a bid to control her painful symptoms. "I also got inflammation around my eyes, nose and cheeks which also brought on painful migraines, blurred vision and nausea. Sometimes my face would swell up," she recalls.
Daily doses of ibuprofen initially helped ease the pressure and pain, but Jo admits, "As I had been taking them daily for years, my body had become almost immune so they stopped having an effect. I tried not to let the headaches get me down, but felt frustrated because they impacted on my life: it was difficult working on the computer and if I was watching TV, the images became blurred, and I couldn't wear contact lenses as they put too much pressure on my eyes. As there didn't appear to be a cure for chronic sinusitis, I just kept on being prescribed antibiotics, which I didn't want. I felt as if I was going around in circles." She also tried nasal sprays, without success.
Although Jo describes herself as a normally positive person, she started to feel worn down by her symptoms. Her doctor referred her for an MRI scan, eye tests, and she also had regular appointments with an ear, nose and throat (ENT) specialist, who suggested taking some bone away from the bridge of her nose to ease the pain. "At that point, I wondered that other options I could consider before agreeing to an operation," says Jo. "My sister-in-law advised trying a food sensitivity test to see if any particular foods were causing flare-ups in the first place."
Following an appointment last summer with a local health clinic, the practitioner suggested she try a yorktest food intolerance program. The process involves sending a finger-prick blood sample to the company's laboratory to test reactions to up to 158 food and drink ingredients.
When Jo's results came back, she was shocked at the foods she showed a reaction to. "One of them was eggs – I eat around eight a week! I was also intolerant to dairy, wine, wheat, yeast, with borderline reactions to gluten and cashew nuts."
Jo had a consultation with a yorktest Nutritional Therapist who advised her on replacing these ingredients with balanced alternatives. Jo admits it was a major challenge to overhaul her diet, but she persevered and within a month she noticed a difference – "I could feel my facial pain easing".
Although Jo had been determined not to let her symptoms stop her enjoying life, she can finally enjoy it free from pain. "I have much more energy and feel less lethargic. I now know if I eat or drink something on my intolerance list, as I will immediately have a flare-up." As a bonus, she also lost more than half a stone within three months.
Jo admits the road to recovery was challenging and it took a lot of willpower to get there. "I found it tough at first but realized that I needed to be strict with myself to reap the long-term benefits." If she falls off the wagon, she pays for it. "The next morning it's like waking up with a hangover and I feel awful. The pressure on my face and head lasts around 48 hours – it's my body's way of punishing me if I eat the foods I'm not supposed to."
More importantly, Jo is relieved that she can finally stop taking courses of antibiotics. "They were damaging my gut and I knew it was not a long-term solution. I still get headaches but if I am strict with my diet they disappear. I'm also delighted with the weight loss and feel so much healthier for doing the test. I have so many friends with irritable bowel syndrome and wonder how much of it is caused by food intolerance. I would recommend the test to anyone who suffers with ongoing headaches and stomach issues."
yorktest do not claim to treat or cure symptoms mentioned in this testimonial and we recommend that you discuss any medical concerns you have with a doctor before undertaking a yorktest program.
† yorktest define food intolerance as a food-specific IgG reaction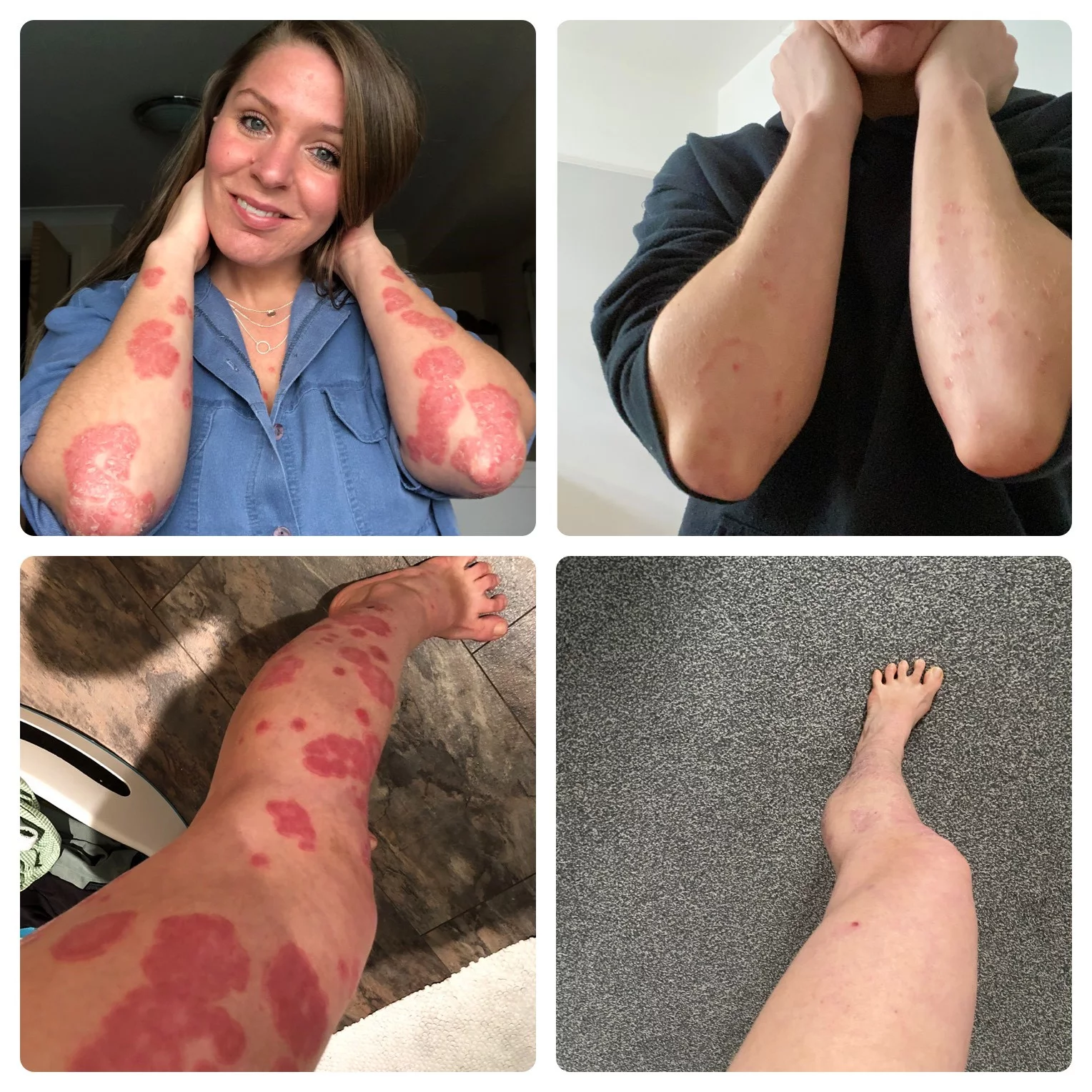 Sara Wilson
"I felt amazing, not only did my skin improve with each day, but my brain was also less foggy and my energy levels increased dramatically"
Symptoms:
Mental Health
Skin Conditions
Reece Scott
"I feel much better, so thank you to the team at YorkTest. I appreciate analysing a few samples and providing guidance may not seem that significant to the guys behind the scenes, but it has been life changing for me so thank you again."
Sharon Robson
"I'm so glad that someone encouraged me to take part in the testing; I can't express enough how helpful it has been to have this new knowledge which has improved my quality of life. YorkTest are a great team and I'd highly recommend them."
Lynn Haigh
"I feel alive again!"
Symptoms:
Arthritis / Joint Pain
IBS / Digestive Problems
Mental Health
Nausea